A great success for the beginning of sports career! This is how we can describe MJT Nevados S 2015 FEI World Breeding Jumping Champion title. He won the prestigious golden medal in the most difficult category – the 7-year-olds in show jumping.
MJT Nevados S (by Calvados Z holszt., out of Nestia sp by Romualdo KWPN) is a Polish Halfbred (sp) stallion entered to PZHK studbook. In 2006 his sire Holsteiner Calvados Z (born 2001, by Chellano Z) ridden by Roelof Brill won the World Championships for Young Horses in Lanaken. His dam, Polish Halfbred mare Nestia S (born 2004, by KWPN stallion Romualdo), is one of the best broodmares in her stud. Elegant, modern-type, outstanding in free jumping, the mare is bred to top sires every year.
MJT Nevados S was born in 2008 in Liszkowo, at a stud farm owned by Stanisław Szurik who specialises in show jumping horse breeding. The then stud manager Krzysztof Kierzek jokes "MJT Nevados S was an extremely lively foal, he started nursing before he was born".  The stallion's current owner is Makrum Jumping Team company. Its goal for MJT Nevados S is to enter the top sport. The company owns more sport horses, all of whom have MJT initialism in their names.
MJT Nevados S was already standing out at regional breeding shows and free-jumping competitions organised by Kuyavian-Pomeranian Horse Breeders Association. In the first two years of his sports career he was ridden by Jacek Zagor. The pair won Polish Show Jumping Championships for Young Horses in 2012 and 2013 (4yo and 5yo). Knowing the quality of his horse the owner decided to transfer MJT Nevados S to a Belgian athlete Gregor Wathelet. This new pair started the 2015 sport season in Vejer de la Frontera (ESP) in February and went smoothly through other competitions to the most important one – FEI World Breeding Jumping Championships in Lanaken (BEL). MJT Nevados S placed 5th out of 208 horses that took part in the first qualifier for the championship. He jumped clear also in the second qualifier, and was eligible for the final, where Wathelet and MJT Nevados S were the quickest pair and jumped clear one more time. With a result of 0 penalties and 34.97s they won gold medal. This is what Gregory Wathelet said about the horse later on:
"He started the season on the Sunshine Tour where he jumped well, and in the Belgian Championships at Lummen I had one down in the jump off because he was not used to going fast. Before I came here I trained him to go quickly, and that training was successful. I knew he was very careful, but in the beginning I didn't know if he had enough scope – now he is going better every week! This week he jumped easily, even in the Final in which the course was quite big but it all felt easy. This horse is definitely not for sale!"  (FEI Press release, 20 Sep 2015)
We are happy that Stanisław Szurik decided to register MJT Nevados S in Polish Horse Breeders Association and enter him to the Studbook for Polish Halfbred Horse. We hope that his future career will be a great example of successful Polish sport horse breeding.
Sincere congratulations to Stanisław Szurik and Makrum Jumping Team.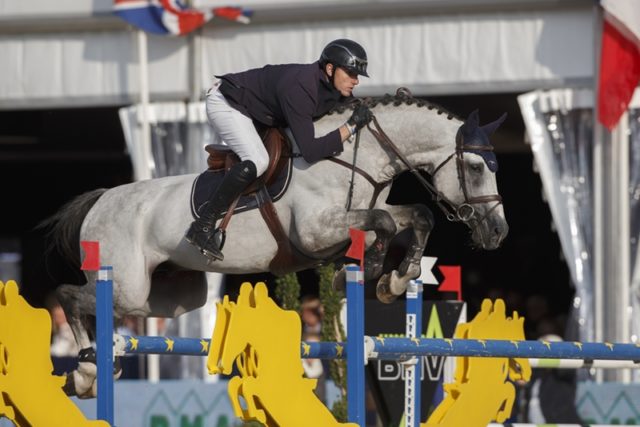 MJT Nevados S – Wathelet Gregory (BEL)
© Hippo Foto – Dirk Caremans